Description
Breathing fresh air is a myth now!
With pollution taking a toll over your life, it is important to find ways to build a cleaner and healthier surrounding. Pollution is increasing rapidly, and there are no effective means to safeguard our health from its wrath. If you think to stay inside the protected walls of your home will keep away from pollution, then you are unfortunately mistaken. Our safe and secured home is also exposed to dirt, dust, bacteria, and everything that can make us extremely sick. No matter how clean your home is, you can never escape the invisible pollutants present in the air. Breathing fresh air even in your own house has become difficult now.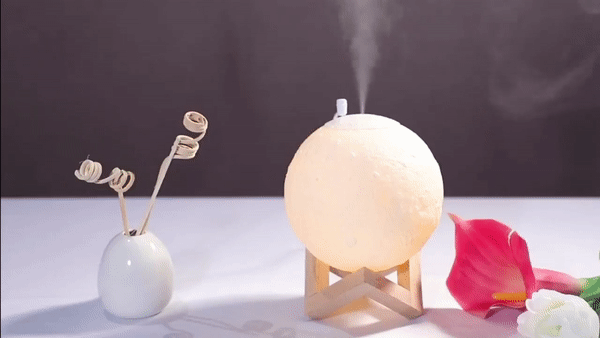 What's the ideal solution to all these problems? How can you make your home a clean space to breathe in? Bring home the 3D Moon Lamp Humidifier and breathe the fresh air at your home. Purifying and filtering out all the pollutants from the air, this humidifier is a must to keep your loved ones safe.
Moon lamp made with 3D printing technology, realistic full moon shape, the surface of the moon lamp is very close to the lunar moon, novelty and charming Long and large spraying duration and range 880ML big capacity. Two adjustment levels for the mist, satisfied for your need; working noise is lower than 35db, is really a mute mode humidifier. All these functions just for your convenience. One humidifier, more function and more Convenient.
Features

Dreamlike and creative decorative lights, perfect decorative lights or gift for Christmas, thanksgiving, birthdays, party, wedding, anniversary, lover, kids, children bedroom, living room, dinning room and outdoor decoration, a favorite gift for your.
Product Instructions
Specifications
Package Included
1 x Moon light
1 x USB charging cable
1 x Solid wood scaffold