Description
MEET THE MOST FUNCTIONAL LAPTOP BAG EVER!
The BULLS Designs laptop bag is a professionally made, stylish and innovatively designed bag for Everyone. This laptop bag is not just a laptop bag, it is a mobile workstation that does much more than just carry a laptop.
DETAILS IN & OUT
TOUCH SCREEN POCKET
THE MOBILE WORKSTATION LAPTOP BAG ADDRESSES ONE OF THE BIGGEST CHALLENGES OF FREQUENT AIR TRAVELERS TOO.
For anyone who lives on the road or in the air and needs their laptop and work tools with them this is the ultimate laptop bag to make life easier!
The bag has been sized to work perfectly, even in economy class, on fold up airline tables in the back of the seat in front of you. The wings of the bag provides the privacy, even in the middle seat and working at 39,000 feet becomes a pleasure.
In a nutshell, Bulls Designs changed or have rather revolutionised laptop bags and how we all work in a mobile world. The Bulls Designs Laptop bag becomes a mobile workstation thanks to its innovative, thoughtful and stylish details that are everywhere.
This is the ideal laptop bag for airline use. With its foldaway wings that also have pockets the bag creates a small, private cubicle that makes working in cramped spaces, on long flights a breeze!
WORKING ON THE MOVE MAY HAVE CHANGED THE WAY WE WORK TODAY BUT SOME THINGS REMAIN ALMOST THE SAME.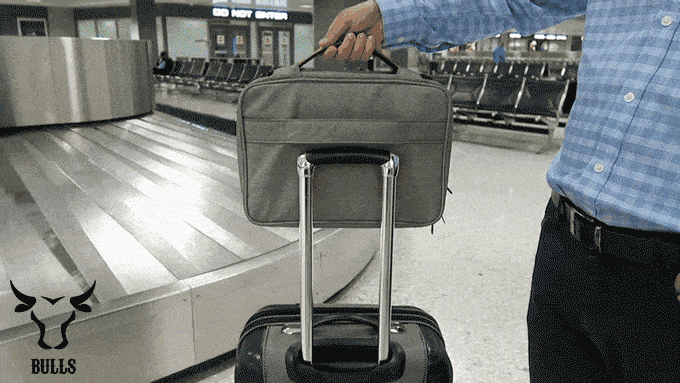 THE BULLS DESIGNS BAG GIVES YOU INSTANT ACCESS TO EVERYTHING YOU NEED.
Center zipper pocket opens to three additional smaller rooms where you keep and connect your portable battery to the USB port cable.
STYLISH AND FUNCTIONAL
The laptop is used within the bag and the bag becomes as useful as the machine inside. The bag looks stylish and not like any other laptop bag where practicality and versatility are matched by good, fashionable looks.
Stylish materials that looked amazing but were also strong had to be sourced and stitched to create almost composite materials. Lockable and waterproof zippers, water-resistant 600D fabric, the strap , for example is breathable mesh fabric to bring strength and fashion together.
The bag has multiple pockets and carry-spaces that have been ergonomically designed both for carrying what is needed on the go but also for easy accessibility when carrying or when in private mobile station mode.
CARRYING OPTIONS
We added the flexible handle, back strap, adjustable metal D-ring & padded shoulder strap so you can hold and wear it in a multitude of ways.
WE ARE REALLY EXCITED TO DELIVER THIS INNOVATIVE DESIGN TO YOUR DOORSTEPS! 
It is all about lifestyle meeting workstyle in an on the go world.
ORDER NOW!