Description
Ultimate trimming solution for all your unwanted hair removal needs
Self trim the hard to reach areas of face and other delicate body parts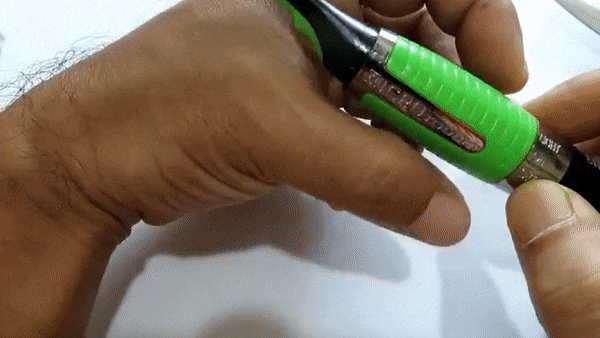 Suitable for cleaning up eyebrows, uni-brows, and unwanted upper lip hair.
Powerful enough for the tough stuff. A super bright built-in light lets you see what you're doing while the slim design allows you to travel with it.
Features:-
 -The all-in-one personal touch trims hair with more precision.
-Uniquely designed cutter heads avoid painful pulling and dragging, giving you all the comfort.
-Built-in LED light offers illumination for those dark areas
-High-performance blades, remove excess hair with full-angle, precision movement.
-Extra safe and convenient
Specifications:-
-Colour :Green
-Material: ABS + Rubber + Stainless Steel
-Power Supply: 1 x AAA battery (included)
-Weight: 64g
-Size: 15×2.5cm
Package includes:-
-:Precision hair trimmer
-:cleaning brush
-:A set of combs
-:user's manual
FAQ's:-
Q1. Is it powerful enough?
A1. Yes, the trimmer is sleek and small but it can easily clean delicate as well as hard hair.
Q2. Can it be used to shave?
A2. The blade is powerful enough for shaving, but is not advised that a complete shave be done by it.
Q3. Which hair is it suitable for?
A3. It is perfect for trimming nasal hair, doing eyebrows, removing upper lip hair or hand and leg hair too.
Q4. What powers it?
A4. This compact trimmer is run by pencil cells (batteries).